Red panda has the ability pacify its attackers with cuteness when you succumb to his aura of pacify he gives you a cupcake and whispers the release date to you
---
Posts: 1
Joined: Fri Jun 01, 2012 4:46 pm
Elite Skill: Cuddle: Sit on players for 6 seconds, causing blind and daze.

Wait, so if I pre ordered, I dont get to play the beta? I have to win a key? Really?
---
Picture a large wooded chamber with a central enormously large tree. Within the boughs mostly hidden is the red panda. Sleeping, curled up, and looking rather peaceful. As the adventurers approach he wakens and scurries even deeper into the branches of his sanctuary. Once in range the giant red panda comes flying out ready for a fight.

Phase 1: The fight starts with physical damage using claws and teeth, intermittent shock-waves/stuns with tail lashes and stomps giving the adventurers a false since of ease with this fight.

Phase 2: The red panda retreats to the tree while flaming bamboo stalks pierce the ground at the adventurers feet. Certain death can be avoided as the ground will begin to glow second before the stalks emerge. The pattern will be unpredictable and therefore the fight can not be choreographed.

Phase 3: The red panda returns with a new sense of ferocity incorporating back flips and kicks into the mix with everything from phase one. He will also summon the flaming bamboo stalks as in phase 2 just in smaller radius and with more frequency. This phase will require the ability to move as a group to get out of the damaging area of the bamboo while watching for stuns and shock-waves.


Skills:
Claw/Bite - physical damage.
Tail lash - Stun.
Stomp - Shock-wave/knock back.
Summon Bamboo - physical damage if pierced and aoe fire damage.
Back flip - throws out a ball of elemental damage at a randomly selected target.
Kick - silences the target while dealing physical damage.
Last edited by
TechGurl
on Fri Jun 01, 2012 5:58 pm, edited 1 time in total.
---
Tail Swipe:
Boss swipes tail and knocks down all foes in the area.
Glare:
Boss stares at target foe and gives all the foes adjacent to target fear.
Racoon Rage:
Boss attacks, and moves 25% faster, while inflicting a random condition on targets if it is called a giant bear or fox.
Fake Dead:
Boss fakes dead for 10 seconds giving it rapid regen and restoring 10% of its health. Can only be used at 1% health.
Racoon Regeneration:
Boss takes a 10 second nap taking no damage and rapidly regenerating health.
Hairball Attack:
Boss creats a giant hairball that it spits out at foe dealing 800 damage and applying poison to the area and knocks down adjacent foes
Final Rites:
I couldn't resist so... Boss uses cuteness powers to blind, confuse and stun all foes in earshot for 10 seconds and does 200 damage to foes in earshot, and extra 200 damage to foes in the area and a extra 800 damage to adjacent foes.
Bite:
Random target foe is picked up by boss, bitten, takes 400 damage and is dropped stunning foe for 5 seconds.
Split:
Boss shrinks and consecutively splits into 4 different red pandas for 20 seconds or until all but the original panda dies. After this skill ends the boss then grows back to original size and steals 1 skill from a random adjacent foe and depletes all other foes of half of their maximum energy.
---
Posts: 1
Joined: Fri Jun 01, 2012 5:16 pm
Red Panda can transform into firefox for a secure web browsing.
---
If the
Red Panda
were a boss in GW2, first thing he would do is summon black & white pandas as his slaves. These pandas would writhe in pain as they are indigenous to tropical jungles unlike Reds'. The B&Ws would charge out at all players in uncontrollable rage. Once this wave is defeated, the Red Panda would stand on his hind legs, towering over all the players. After absorbing a massive amount of damage, the panda would sit down and begin rolling huge snowballs at the players. For the finale, a huge log rises up from the ground. The panda uses this log to escape players' attacks climbing high in the sky. The only way to damage it is when Red attacks. The log would slam down onto the ground causing shock-waves, leaving the panda dazed. Players would use this chance to finish it off.
---
Posts: 1
Joined: Fri Jun 01, 2012 5:30 pm
Cannonball: The panda jumps in the air and lands again, stunning and damaging everyone in the radius.

Sloth: Immobilizes and disarms itself and starts eating noodles. Regens health over the duration.
---
Feral Lunge
- Giant Panda's standard attack, where he rolls down enemies who cross his path.
Melandru's Charm
- Panda immobilizes target player with its inescapable cuteness. Condition is stackable.
Bamboo Trap-
Clumsily lays down a stack of bamboo that knocks down enemy player once triggered.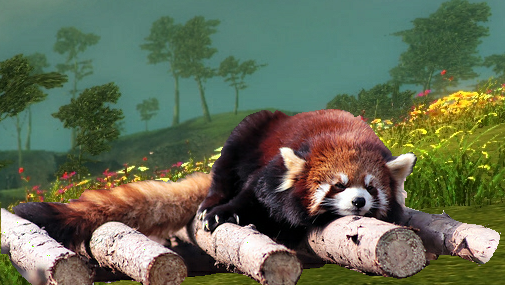 Escape-
Enemy red panda scurries up a large tree to hide and slowly regenerates health. Panda cannot attack or receive damage until enemy players attack the tree to knock him off.
Bamboo Bassoon-
Grabs a piece of bamboo and pretends to play it like an instrument. It does nothing, but it's absolutely adorable.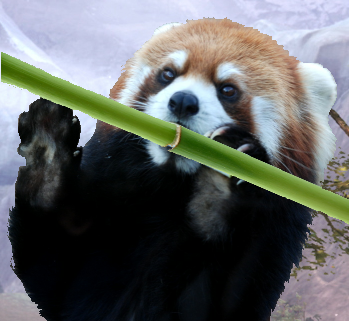 Rampage as One (elite)-
Red panda calls forth an horde of hungry little red pandas to trample over players and nibble on their clothes.
It could be a tough fight, because players would have to roll and dodge from both the rolling giant panda and his traps. There would also need to be a good amount of condition removal to get rid of
Melandru's Charm
's effect.
I really hope I win. I've been wanting to play Guild Wars 2 ever since ArenaNet's release announcement on PC Gamer magazine 5 years ago on their Eye of the North issue. I don't have the money to pre-order, so I would be so happy to just have a taste of the beta.
I hope you guys like it!
Last edited by
redgrave9
on Fri Jun 01, 2012 11:24 pm, edited 4 times in total.
---
Posts: 1
Joined: Fri Jun 01, 2012 5:53 pm
I hope that red panda ll be the leader of charr. But in the case of being a boss having charm effects it ll be awesome , forcing ur allies to go against u . Also a good passive ability could be a 50% damage reduce for being too fluffy , and the ultimate ability of Red Panda "R.Panda says" it ll use actions like dancing or wave so every player ll have to copy it otherwise they ll take a huge amount of damage . Go go Red Panda lead charr to victory !!!
---
If Red Panda was a GIANT BOSS....I'd say the power to throw mega-huge flowers that just steamroll you would be good. Maybe also hissing...sonic hiss!
---
Who is online
Users browsing this forum: No registered users and 0 guests